Posted: December 8, 2020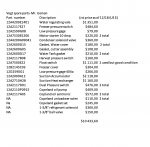 Lots of new spare parts for sale.  Most still in their original packaging.   Would like to sell all of it.
---
Posted: February 7, 2020
24 m2 nunca fueron tan productivos. En Irta Group hemos creado una línea completa de envasado de cubitos de hielo tan compacta, que tan solo requiere un espacio de 24 m2 para su instalación. Alta velocidad = alta rentabilidad. Esta completa línea de en …
---
Posted: September 27, 2019
MULTICABEZAL LINEAL CON PLATAFORMA + ENVASADORA VERTICAL marca IMC  Listado de componentes en venta todos del fabricante IMC: 1.MULTICABEZAL 14 PESADORAS 5 LITROS PREPARACION HIELO 2.ENVASADORA AC 650 PARA HIELO SINCRONIZADA CON MULTICABEZAL PAR …
---
Posted: September 6, 2019
Vogt P18XT Freon 404. Year 2013 and have 25900 hours on the meter. Large Tube, 1 3/8 ice diameter. Please contact me for more details.
---