The use of ice in Europe can be traced as far back to the days of ancient Rome.  We, as modern day Icemen and Icewomen, are forging the way to making packaged ice an everyday commodity used by all.  Below is the latest official Freeze Frame interview with Jack Stensland of Mr. Iceman in Oppaker, Norway which is small community of 2.300 people roughly 50 Km from Oslo. Jack is not only the largest packaged ice producer in Norway, but possibly the only packaged ice producer in Norway.
As a brief background from in Jack's words, Mr. Iceman was conceived while on a family vacation in Marbella Spain in 1999. Jack was talking about business and just blurted out to his father "I am going to start an ice plant in your garage." His father's prompt reply was simply, "Cool!" which seemed appropriate considering the product.
The company has been involved in the production and distribution of ice cubes since that summer and is one of the earliest members of the EPIA having been a member since January 2008. Today Mr. Iceman not only produces packaged ice but excels in producing ice sculptures.
(Interviewer) Would you tell me in a little more detail about your background and how you got involved with the packaged ice industry?
(Jack) I was born in Oslo in 1971. Upon finishing college at the age of nineteen I joined the Navy. I attended Officer Candidate School and was on a small mine-hunting diver boat afterwards. While on the boat one of our main task was to defuse old mines from the second world war. From time to time fishermen would find them and get them tangled in their fishing nets. Detonating them safely and hearing the explosions was awesome. The sea around us would afterwards be flooded with dead fish. Their bladder cracked open from the pressure caused by the explosions and they floated up to the surface and we could just help ourselves to as much fish as we wanted. We would also assist the police in the search for drowned people.
Sailing the coast of Norway, the full length of it—25.148 Km—was in itself a great experience. What an incredible coastline we have with the awe inspiring mountains and fiords. Not to mention all the fun we had docking at all the different ports. Do I need say more? After thirteen months in the Navy, I put my feet back on dry land. I had just a few months before my studies called. I became a bicycle dispatcher. Basically I cycled like a madman around in Oslo and delivered packages for corporate customers. I would cycle about 80km a day. Remember this was 1992! A very early form of environmental transportation. Retro style. The flipside of this type of work was that I got into great shape and earned good money while weaving in and out of traffic and getting yelled at by drivers and pedestrians—what fun for a twenty-one year old enjoying his fleeting youth.
January 1993 I started my studies at Swiss School of Tourism and Hospitality (SSTH) in Chur, Switzerland where there is a high German influence. I spent 3,5 years in this amazing skiing eldorado. I earned a Swiss degree called, Diploma of Hotel Management. That equals to a Bachelor degree. I just found out this fall that my old school was just incorporated into the world famous Hotel School in Lausanne and recognized by hospitality professionals around the world and frequently ranked as the best hospitality management school in the world. During my years at SSTH, a part of my assigned coursework was to work in amazing hotels in St. Moritz, Lucerne, and Brussels. What great fun and invaluable experience that was!
In 1996, I returned to Oslo and worked as a Sales Manager for a small hotel for one year. Then in 1997, I was offered a position as a cruise consultant on a small luxury liner for Seabourn Cruise lines, the 'Seabourn Pride', and spent four months on the seven seas. I sailed the Caribbean, the Gulf of Mexico, through the Panama Canal, the eastern South Pacific and rounded Cape Horn in Chile or 'Cabo de Hornos' south or Tierra del Fuego archipelago at the tip end of South America. Then we sailed back up the west coast of South American and again to Fort Lauderdale, the Spring Break playland in Florida, USA. If you want to see the world. This is a great way to do it!!
Seabourn Cruise lines at that time catered to 75% of the Fortune 500 list of companies. We had an amazing clientele. Our guest passengers would roughly be an average of 70 years old. Mostly 'first money' as it was called on-board. The beauty of that was their down to earth attitude. They were simply lovely people, well travelled and had tons of great stories to tell. As Cruise Consultant, among many other responsibilities, I would host tables in the restaurant at night as did some of my colleagues and the Captain. I got to meet many incredible people. One night I had Ernest Borgnine with his beautiful Norwegian wife Tova at my table. He told some amazing Hollywood stories not appropriate to repeat here. During a deck BBQ around Christmas time in 1997, while sailing the Carribean, I had Sterling Moss at my table. Wow, this guy could tell stories about driving like a madman with style!! Apparently one time during a race called The Americas, he came to a lowered boom across the roadway where at first they did not see the boom but when seeing it, it was too late. He just went for it hoping the car would clear under. Apparently doing about 100 mph, on a gravel road of course!!! Guess what. They cleared under it with a few inches to spare. I think they were in a Mercedes Benz 300SL. Awesome!! I could go on and on about the interesting people and the adventures told to me during those cruises.
Spring 1998, I found myself back in Marbella, Spain where I founded my first company and started importing different products from Spain and Italy. From Spain it was plastic buckets – Espuerta de Plástico. They were big, 40 liter, strong and unique!! I sold them to marinas, horticulturalists, craftsmen, and others. Another crazy idea! In Italy I came across Franca Leo and the brand name she developed, Ciuffo Gatto. She is a manager, researcher and ecologist, who has forty patents and the same number of registered product trademarks all for products derived from corn starch. The company produces pet products. Dog chewing bones etc. So I ended selling this to pet shops around Norway. On weekends I would display their products on The Norwegian Kennel Club's shows. Also a crazy idea!
I Learned a lot that year about how to run a business. It was a lot more difficult than I had anticipated.
(Interviewer) So having an exciting early career in the hospitality industry and, later in import resales, what prompted you to get involved in the packaged ice industry?
(Jack) While on vacation in Marbella Spain in 1999, I said to my father, 'I am going to start an ice plant in your garage.' My father's prompt reply was simply, 'Cool!' Love my dad. For the past three years I juggled the three different jobs, Cruise Consultant, Importer, and Wholesaler. Finally deciding that I should go experiment once again with ice. I sold out my inventory of non-ice products and got busy with ice. The rest is history…
If I might back up a moment and explain. The idea to produce ice all started when I was a teenager. I was heading for a party with my mother's orange juice and my dad's Smirnoff. Classic screwdrivers without ice…come on!! The only ice at the party looked horrible. It must have been in that freezer since Norway had the Olympics in 1952. I thought to myself, 'Why can't I just buy ice in the store???' It was then that the seed was planted.
Would I recommend it to others? Not sure I would. My journey has been everything but easy.  I find myself liking the unknown and thinking I can get around obstacles, fix them, or just handle them. Starting an ice business in Norway in 1999 was just plain crazy. As far as I know, only Spain and the UK produced packaged ice at the time here in Europe. They were the only two mature markets. So when I started, people were seriously wondering what was I thinking…
(Interviewer) What role do you play today in the day to day operation of Mr. Iceman?
(Jack) What role do I play in the business? Well I am the founder and General Manager. Everything goes through me. Fortunately, I have come across some interesting people along the way who have proven themselves very helpful. First of all I have had great help from my parents. They are unique. Not sure it would have worked if it was not for them. I love them. Then I have some good friends that are ex-McKinsey people, from the global management consulting firm. Their ability to advise and assist with numbers have been a great help.
(Interviewer) What would you say that your company is particularly good at or specialise in?
(Jack) One of the things that make us special, apart from producing the best ice in the world, is that we have as of today not gotten a special request we could not deliver. That being large quantities of ice, delivered in a very short time frame, or Ice Sculptures in all size and shapes. Let me give you an example.
During the Ski World Ski World Cup in Oslo in 2011 more than 100 ice carvers around the world were invited to interpret the Norwegian painter and printmaker, Edvard Munch's work. We had to recreate some of his work in ice or snow but three dimensionally. The choice was ours. I have always loved his Madonna painting. So I decided to paint the famous Madonna painting of Edvard Munch on ice.
I presented this idea to the organizers. They of course did not believe it was possible. So I had to make a sample to prove it was possible and this (see picture below) was put on display outside the main entrance of the State Department in Oslo. And it worked.  The organizers were thrilled.  This had never been done before. To top it all off I painted the Madonna painting of Andy Warhol next to it. A totally different look. So called pop art.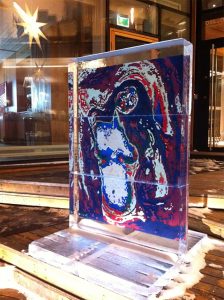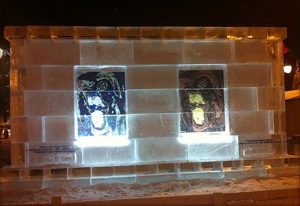 I wanted the two different looks brought together. World Cup is international, Munch and Warhol, Norwegian and American, painted decades between, catering to different ages. World Cup is for all ages. It was all portrayed on a 3,5×5,5 meter ice wall weighing a total of 7 tons. A huge hit. You can visit: http://www.munch.museum/exhibitions.aspx?id=211&mid=&lang=en
So to answer your question I would say we have a very unique service level. Old hotel man you know!!
(Interviewer) How many people do you employ during the busy season and during the "off season"?
(Jack) Besides producing and selling packaged ice, since I am also an ice carver. Therefore, I try to keep the same number of people year round because of all the ice carvings we do. It's sort of a gamble, but I have found it quite useful doing it that way.
(Interviewer) When did you start carving ice and what got you started? Did a customer come to you?
(Jack) The very first request was from a company asking for an ice bar. Not a hard one to solve. So I sold that one. But then a local chocolate company wanted their mascot, that happened to be a stork standing on one leg, in ice. I said yes and after hanging up said to myself; "Now you are in trouble!!" Well, the story goes that after having printed a photo of the stork and a day of carving I actually had carved out the stork. A three dimensional, 1 meter tall, ice sculpture. My new customer was very happy and I was very relieved and also impressed that I had manage to carve it out. Apparently I could do something I did not know I could do. If you don't try, you never know what you are able to do. I think that describes how I attack a business problem.
(Interviewer) What is the company's management style?
(Jack) Kind of flat. I believe in giving my employees the room to grow and assume more responsibility. I place a lot of trust in them and it has proven to work.
A work day as an Iceman is not your typical work day. If you want that 9-5 job, you better find something else to do. I seldom end up doing what I planned to do. I have found out that we are here for the customer. And that's it!! We work late and long hours when it is needed and we take short breaks when we can. We're able to enjoy short work days when business is slow.
(Interviewer) What major challenges and problems do you face? How did you handle them?
(Jack) Surprise break downs I just really hate! Even though you maintain the equipment well, it still breaks down, but only when you least expect it or need everything to run smoothly to meet a deadline. That is very annoying. It is on these days you really appreciate loyal staff.
(Interviewer) What was or is your biggest challenge?
(Jack) The biggest challenge of all was to convince the Norwegians to start buying ice. Trying to persuade new customers they needed packaged ice was tough. I got used to hearing 'nei takk' a lot. But I never gave up. Stubborn I was or let's just say persistent since that sounds more gentle and refined.
When a store let me in with my unconventional frozen products, I would promote the ice on weekends, giving away free drinks with my ice. I used small glasses with one cube, and I would tell them my ice lasted longer than their homemade ice. After a while, people came back to me and said I was right. My ice was better.
(Interviewer) How do you go about getting new customers whether they are large customers or distributors of your ice?
(Jack) I love word of mouth. That's how I do it! Excellent service is the best and most honest advertisement.
(Interviewer) What have you learned from your mistakes?
(Jack) The great thing about mistakes is usually that you learn from them and you don't repeat them. Having produced ice for 15 years its kind of typical not to remember one example. Or, maybe I just tend to forget solved problems and just move on with new habits and ways of doing things that prevents the same problem for occurring.
(Interviewer) What was the biggest accomplishment / failure since you have been managing Mr. Iceman?
(Jack) The biggest accomplishment must be having built the company to what it is today with my bare hands (even when wearing gloves). The ice consumption we have today in Norway is solely because of me. I have created a market that was never there to begin with.
During one of the first years as an Iceman, I had several requests from customers that wanted stand up freezers. Kind of smaller versions of a Leer merchandiser. I found that if I skipped the glass door and went for a solid door I could save 20% on the price that I had to pay for the equipment. I thought I could just wrap the freezer in a nice wrap and sales would be the same. Boy was I wrong. My customers did NOT like this. So 20% saving ended up as a huge costly experiment. Buuh!! Now my merchandisers have clear glass fronts.
(Interviewer) What are things your company has done recently to show how it values its employees and/or customers?
(Jack) We celebrated our 15th year anniversary on the 26th of June this summer. I thought giving my employees a big bonus was a nice way of showing how much I appreciated them. They agreed!
(Interviewer) What are the organization's/company's strengths and weaknesses compared to its competition?
(Jack) Mr. Iceman provides the level of service my customers expect and offer value for money products. This is true for the packaged ice as well as the ice carvings.
(Interviewer) What is the organization's plan for the next five years? (Grow within your market, expand your market, or branch into new ventures, HOW?)
(Jack) I've shared a lot and must hold back from disclosing the future plans of Mr. Iceman, but rest assured that there are some initiatives underway that are about to grow the business.
(Interviewer) What are the various ways employees communicate with one another to carry out their work?
(Jack) Our employees talk to each other when they need to communicate. We are a small group and share ideas, concerns and generally enjoy the camaraderie of working together.
(Interviewer) If you recall at the convention in Palermo, the membership adopted the rule that all producer members must be HACCP certified or not be allowed to be a member after 2014. I gather from your words that you are in full support of having one of the requirements for producer membership in the EPIA to be HACCP certified. Is your production and distribution company HACCP certified today? When did you first get certified and what organization did you use for the independent audit?
(Jack) We are HACCP certified. To produce food in Norway you have to be, so I have been HACCP certified for many years. There are companies that specialize in this and they confirm that we follow good hygiene practices.
(Interviewer) Are you seeing any new trends emerging in the ice market today?
(Jack) The ice cube market in Norway is still very small, but the ice culture in Norway is pervasive much of the year. I am happy that it's becoming more common to order an ice sculpture for an event. That being birthdays, parties or just a corporate event.
The demand for ice cubes for consumption is still very small. This is one reason I go to the annual conventions and talk with icemen and icewomen from as many regions as I can. We are in need of expanding our market, setting new trends, and finding new uses for packaged ice as well as learning new ways to become more efficient in how we produce ice. We cannot afford to be complacent in our young market.
(Interviewer) What effect is the difficult economic climate in the EU in which we are all working today, having on your company's growth?
(Jack) The Norwegian economy is a prosperous mixed economy, with a vibrant private sector, a large state sector, and an extensive social safety net. That said, the strength of the Norwegian economy has shielded Mr. Iceman from much of the economic troubles elsewhere to the south.  But then again with only five million people living in all of Norway, how much package ice and ice sculptures can you sell when its below zero six months of the year?
(Interviewer) What has being a member of the EPIA offered to you and your business?
(Jack) Personally as the Producer Representative on the Board of Directors for the past two years, the EPIA has provided to me the unique opportunity to talk to other producers throughout the year to discuss what is going on in other markets and to work towards improving the industry for all of us.
(Interviewer) Is there anything else you would like to add?
(Jack) Well, I am blessed with two lovely children. Haakon is eight and my mini-iceman. My daughter Kristine is four and has more energy than a truck full of Red Bull. Hanne is my 'Bo Derek'. She is my wife and the mother of my children. I love them all so much.
I come from a big family and have two sisters and a brother. All younger than me.  My parents are still young and healthy. I talk to all of them almost every day. We all live within walking distance from each other here in Oslo. In the winter I try to get out of the city as often as I can to go skiing at our cabin in Norefjell. Its great to get out of the city and spend time with the family. The kids grow so fast!
Finally, I would like to point out that I am a true believer in that we should use more ice cubes for breakfast. Nothing starts my day so well as a big glass of milk with ice cubes!! That and a couple of sandwiches I am ready to rumble!!
Yours truly,
Jack Stensland
MR. ICEMAN